Free online itineraries
In this Lanzarote guide you will find the map of the island, with many directions to see many beautiful things.
Numerous aloe vera plantations.
A typical dish of the island, the wrinkled potatoes (papas arrugadas) are boiled in water with plenty of sea salt or directly in seawater. Being cooked with their peel, a crust of salt forms on the dry skins.
Lanzarote these are the markets
These are the weekly markets of Lanzarote: Haria market held every Saturday morning from 9.00 to 14.00, sells traditional craft. Each local artisan displays his goods on the stalls. The atmosphere is very warm!
Held every Sunday from 9.00 to 14.00, the market of Teguise is most probably the largest and most popular market of the island. We highly recommend a visit.
Directly in front of the sea, Arrecife market is held every Wednesday from 9.00 to 14.00 on Avenida del Mar.
DISCOVER HERE a fantastic 3-hour trekking
The market in CostaTeguise is held every Friday in the Plaza Pueblo Marinero from 18.00 to 22.00. It is a small market with many stalls from the Sunday market in Teguise. The ambience is very lively with many bars. We recommend it for spending the evening on Friday.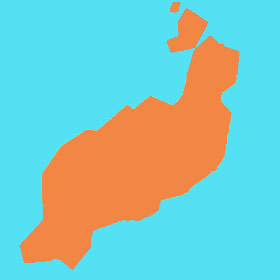 LANZAROTE
Your holidays in Playa Blanca
Playa Blanca is a popular tourist resort located on the southern coast of the island of Lanzarote.
It is characterized by the panoramic walk along the coast, by the numerous restaurants and tourist activities.
But its strengths are:
The proximity to the beaches of Papagayo and the fact that it is the hottest point of the island, ideal for an off-season holiday.

Where is Lanzarote (map)?
Lanzarote is a volcanic island that is part of the Canary Islands, an archipelago located in the Atlantic Ocean off the northwestern coast of Africa. Specifically, it is situated northeast of the main Canary Islands, approximately 125 kilometers west of Morocco.
Characterized by a unique landscape, Lanzarote features spectacular rock formations, breathtaking beaches, and a variety of natural ecosystems.
The volcanic influence is evident in many parts of the island, with lunar-like landscapes, volcanic cones, and lava tunnels that add a distinctive charm to the environment.
ITINERARIES IN LANZAROTE:
Sunshine in Lanzarote +PDF
Map of Lanzarote
Beautiful beaches
The suggestive cliffs
Mountains of fire
A must visit in Lanzarote
Visit with children
Cactus Garden
The volcanic caves