Other places of interest in Brittany
We now invite you to spend a whole day in the middle of the Brittany countryside.
Le Faouët (Morbihan)
Let's reach Le Faouët (beech forest), a village of enchanting spots.
(Brittany is a region of France)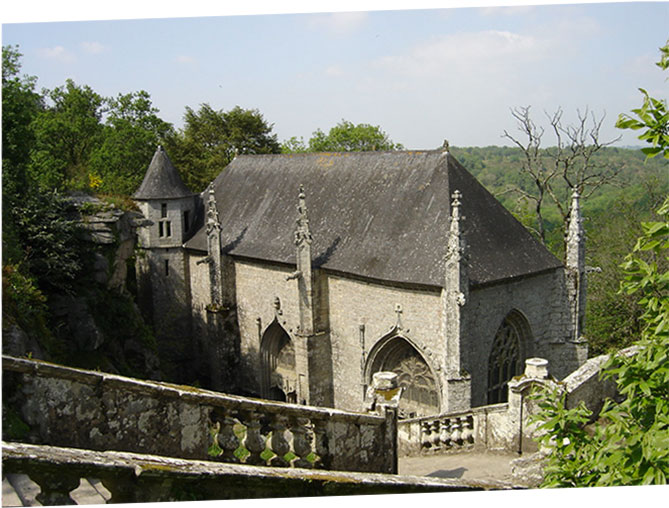 In the main square, the large 1,000-sqm market, is a majestic oak and fir wood structure, entirely covered by a slate roof.
The market comes to life twice a month (first and third Wednesdays) but it hosts lots of events throughout the year.
Nearby, there is the 17th century Ursuline convent, housing a gallery of painters who have visited Brittany in the years.
Outside the village, Saint Barbara Chapel, a gothic structure with very rich stained-glass windows, clings to the side of a ravine; it can be reached by means of two monumental stairways.
A path goes down to the fountain where young girls used to throw pins in the hope of finding a husband.
A kilometer away, the Chapel of Saint-Fiacre hosts a richly carved, polychrome rood-screen, among the oldest in Brittany.
You can indulge in relaxing walks in the surrounding woods.
SEE HERE all the activities in Brittany
Auray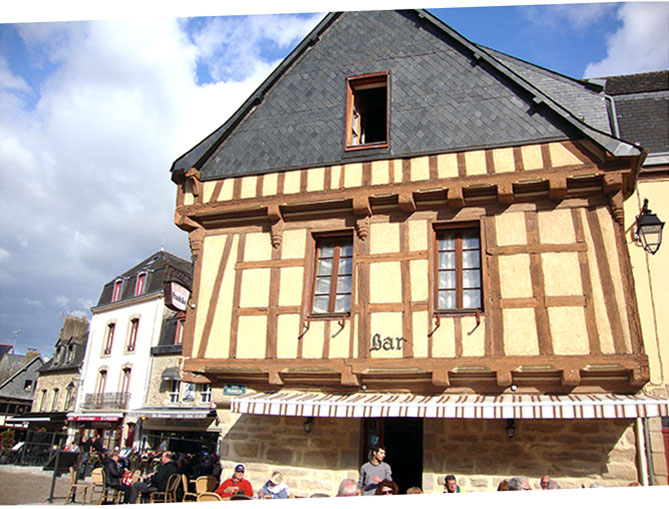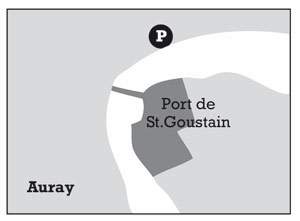 Leaving Le Faouët behind, we head to Auray, a picturesque little town. We park our car not far from the canal and cross the stone bridge of Saint Goustan.
The small port, a few steps away from the bridge is a quiet, almost magic spot where you can relax in the evening while dining or sipping a coffee.
The pretty Church of Saint-Gildas, though unpretentious, is worth a walk to the centre.
Every Monday, from 8 am to 1 pm, quality products are on sale at the market: since it's usually quite crowded, it is advisable to be there early in the morning.
We go back to Vannes to spend the night as we did on our outward journey.
Our experience to Brittany ends here: we hope you enjoyed it. We wish you a safe journey back home.
DISCOVER BRITTANY:
Trip to Brittany + PDF
Seaside resorts
An historical center
Breton archaeological sites
Small town of artists
Pedestrian village
Panoramic viewpoint
An enchanting place
Our programme