Hotel with private pool in Lanzarote
HOTEL Casa de Hilario (Yaiza)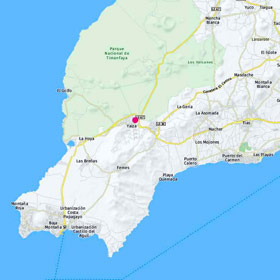 Casa de Hilario is an ancient finca where Lanzarotes famous Hilario Lanzaroteño used to live in enviable surroundings of the Fire Mountains (National Park of Timanfaya).
LOCATION
The hotel Casa de Hilario with private pool is west of Arrecife Airport heading inland along the LZ2. It's located on the northern edge of Yaiza village, in a great location for visiting the island.
THE ROOMS
We offer seven beautiful fully equipped rooms that are very cosy and well light with all the comfort, TV ‐flat screen, safety deposit box (for rent), hair drier and bathrobes.
SERVICES
A privileged orientation of the beautiful terrace makes it possible that the sun shines on you the first thing in the morning while you are having breakfast. You have a wonderful view at the village of Yaiza and the Janubio. And in the evening you can enjoy the best sunset from a welcoming terrace.
We can also offer you a large spacey interior patio that has lots of rooms around, is surrounded by gardens and precious corners that leads to a truly beautiful point of view to a welcoming heated swimming pool and that has beautiful views at the village of Yaiza and the sea.
The external gardens have a palm grove with up to 30 different species and an area with fruit trees.
We are situated only two minutes walking from all the services, supermarkets, restaurants and taxi. Also it's very close to the National Park of Timanfaya, The Fire Mountains at the south of the Island.
7 nights
for 2 people
with
Breakfast
and
car rental
Get a free quote without commitment:
ASK US for all the advice you need to spend an unforgettable holiday.
DISCOVER all the best resorts we have chosen in Lanzarote for your holidays at unbeatable prices.